Blog
Holiday shopping is a stressful time for many, specially when it comes to Christmas shopping. With the holidays just around the corner, you need to find ways to make this experience LESS stressful, right? Lucky for you we've gathered... read more
Being a homeowner comes with its many challenges. You have to protect your home against natural disasters, fires, water damage, mold, and more. If and when something does happen to your home, you have to be prepared in order to make sure your family and home... read more
Online and Mobile Banking have taken the banking world by storm. More and more people are accessing their banking information through their computers or smart phones! How convenient is it that you... read more
More than 93% of U.S. workers were paid via direct deposit in 2019, according to a "Getting Paid In America" survey. Direct Deposit is offered in virtually all workplaces since it's a safe and easy way for employers to pay their employees... read more
You have that nice job that brings in enough income for yourself (or for your family) to live comfortably. You can splurge on whatever you want because you can, and you can pay your bills without looking because you know you have enough money to cover them... read more.
You've just been turned down for a loan. You don't know what to do, your emotions are everywhere, and you feel hopeless. Now what? Well, first, you're going to want to know why you were turned down. Second, you're going to want to do something so that it doesn't happen again... read more
The National Association of College Stores estimates that college students spend around $80 on EACH new textbook. Some textbooks like science, engineering, or medical books, can cost..
.read more
Moving into college is nerve-wrecking for both the parents and the children. It's a day filled with many emotions and stress, . If you are not prepared for the trip to campus, or if you haven't packed the necessities, your day may be stressful... read more
College packing lists are everywhere online. Lots of blogs will tell you to bring everything you can possibly think of, but the truth of the matter is that your child will probably not use everything you bought them. That is money and space wasted. This list will... read more
If we asked you to produce your birth certificate and your will, would you be able you find them? Maybe you're prepared and can find them in less than two minutes, but if you're on the other side of that road, you may want to take a day and organize your important documents...
read more
More than 2/3 of college graduates have student loan debt with an average balance of $30,000, and an average student loan payment is around $400, which burdens Americans more than credit card debt. Crazy right?... read more
Are you keeping too much money in your checking account? It's suggested people keep at least two months' worth of expenses in their checking account, anything else should go to your savings, retirement account, or emergency funds. Below are a couple of tips to help you make the most out of your money... read more
The Colonial Pipeline and JBS Meat Packing Co. cyberattacks were a wakeup call for all of us. They impacted all of us and it came out of nowhere. You may be asking yourself, "if those corporations are not safe from hackers... read more
Living near the beach means plenty of beach trips! Whether they be day trips, weekend trips, or week-long trips, being prepared for a beach trip is always necessary. We've gathered some tips to help you... read more
Vacations are supposed to be fun and relaxing time away from work and school. Planning a vacation should not be stressful. To avoid stress, you need to be prepared and make sure you plan for all possible scenarios. This will give you piece of mind knowing you're prepared, as well as help you relax... read more
If you have debt, you're not alone. According to Experian's 2019 Consumer Debt Study, the average American has a personal loan debt of $90,460. Lucky for you, we have researched some motivating ways to help you reduce your debt... read more
You're fixed on a house that you truly want to buy, your Realtor is encouraging you to get your house professionally... read more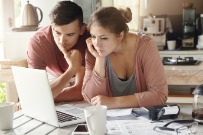 Put it on the card! We love to say those words until we realize our credit card is maxed out and we're in serious debt. You begin to stress about paying off your bills and your credit card interest in piling up. If this explains your life, you may be living beyond your means... read more
Living rooms… We spend so much time in them that neglecting to update it would be a mistake. It would also be a mistake because you would be missing out on so much added home value! We have researched the best ways to update your living room to add value to your home, and don't worry... read more
Want to sell your house, but you're not having any luck? The value is not the same as when you first bought it and there are plenty of factors that play into that. If you want to sell, you need to fix your home up a bit to add some value! Lucky for you, we have gathered some helpful tips...
read more

Take the rebate and save with a loan from NHCU. If you're offered the choice of a rebate or the dealer's 0% financing, choose wisely. Financing the lower amount with a low rate loan from NHCU could cost significantly less...
read more

for more information about rate vs rebate
Fake debt collection, identity theft and impostor scams are topping the list of fraud reported. There were nearly 350,000 reports of impostor scams last year, which resulted in $328 million unrightfully paid to individuals posing as loved ones, government officials... read more

for more information about protect yourself against fraud
It's almost that time again! Can you believe it?! We are already getting prepared to go back to school here on the Gulf Coast and we all know what that entails. Money. And lots of it. No matter the size of the family, getting ready for school can be expensive for everyone...
read more

for more information about back to school on a budget
---