Horizons Heroes
At New Horizons Credit Union, we honor first responders every day of the year by offering a Horizons Heroes Account with perks listed below.
During the recent COVID-19 Pandemic, we are especially thankful for all that first responders do for our community. You are our HERO!
Horizons Heroes Account
Active first responders, military personnel, physicians, nurses, and current educators (teachers/professors) may qualify for a "Horizons Heroes" account. To qualify for the Horizons Heroes Account and perks, the member must have a valid work ID as proof of employment, as well as other legal ID for account opening requirements, and have the following services with New Horizons Credit Union:
Savings Account

Checking Account 

Direct Deposit, or Automatic Payment, or e-Statements

 
Horizons Heroes will receive: 
.25% APR discount on Consumer & Personal Loans**

.25% APY increase on our Certificate Account Rates***

Free 24/7 Online & Mobile Banking 

Free access to over 55,000 ATMs through Allpoint ATM Network 

Free 24/7 Voice 24 Telephone Account Access

Free Notary Services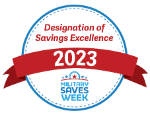 New Horizons Credit Union participates in the annual National Military Saves'  "Make the Pledge to Save" program each April.  However, anyone can make the pledge to save and learn more about the program at any time. There is no cost to participate and have access to resources designed to help you save. This program encourages military members to take a pledge for better savings and budget habits. Visit miliarysaves.org for more information.
*A First Responder is considered a person who arrives first at the scene of an accident or other emergency situation. Ex: Active Firefighter, Police Officer, Paramedics, EMTs, Physicians, Nurses, Active Military Personnel, and current educators such as school teachers and professors. **APR = Annual Percentage Rate;  All Loans subject to credit approval. Rates and terms are based on an evaluation of applicant's credit and may vary. Offer cannot go below NHCU floor rate or be applied to existing New Horizons loans. Promotional rates do not apply. Does not apply to Mortgage/HELOC Products or Credit Cards. *** APY = Annual Percentage Yield; Normal certificate requirements apply. Does not apply to existing certificates. Contact NHCU for details on the Horizons Heroes accounts. Proof of current employment is required as well as other legal ID for account opening processes. Must be able to verify that direct deposit, automatic payments, or e-Statements with NHCU is active. Contact 251-316-3240 for more details. 
---