Community Involvement
Horizons Helping Hands


New Horizons Credit Union believes in giving back
to the community and embracing the credit union industry philosophy of People Helping People. For this reason, we have branded our community outreach efforts - Horizons Helpin
g Hands. New Horizons continues to assist with sponsorships and
 donations; and we also realize the importance of putting some skin in the game through volunteerism. Our Horizons Helping Hands' main purpose is to have viable impact in making our community better with each effort we are involved.
For 2023, Horizons Helping Hands is committed to helping the following non-profits:
Fundraising through the Horizons Helping Hands for our Corporate Charity is primarily via designated Jeans Days, payroll deduction, internal fundraising, and member participation such as special in-branch collection drives, raffles, and other events.
New Horizons Credit Union also supports many other worthwhile community endeavors such as:
Hi-Q  High School Academic Competition
Since 1986, New Horizons has been a proud sponsor of Hi-Q, the oldest continuing academic competition in the U.S. Hi-Q is vital to a quality education, as it encourages academic achievement, initiative and good sportsmanship.  This program is organized through the Mobile County Public School System.  Mr. Bob Grip, from FOX10, presides as the Quiz Master, asking students from over 14 high schools questions from 13 subjects, ranging from standard high school courses to general scholastic knowledge. The competition begins in January and goes through March. The first place winner receives $2,000 and a trophy, while second place receives $1,500, and third place receives $1,000.
Scholarship Program
For over 20 years, New Horizons Credit Union has awarded $75,000 in scholarships to local graduating, high school senior-members seeking to continue higher education. Each year, up to five, $1,000 scholarships are awarded to deserving high school seniors for their efforts scholastically as well as efforts in volunteerism. Deadline to apply is typically April of each year. We choose the winners by May of each year.  All members who are high school seniors are encouraged to apply. Please visit this website each December and view our New Wave Savers Y for more information on new wave savers clubs outh Account page for the most current New Horizons Credit Union Scholarship Application & Information.
United Way's Volunteer Income Tax Assistance (VITA) Program
For the past few years, New Horizons Credit Union has partnered with the local United Way to offer free office space at the NHCU West Mobile branch for the United Way VITA program to offer free tax services to qualifying consumers with volunteer professionals. To learn more about this program, please contact the Mobile, Alabama United Way office. 
Children's Miracle Network   
New Horizons Credit Union supports the credit union industry's philanthropy - the Children's Miracle Network through the League of Southeastern Credit Unions, CU4Kids, and our local Mobile Credit Union Chapter. Proceeds go to benefit the local children's hospital in Mobile, AL - USA Health Children's & Women's Hospital.  To learn more about how you can help support this cause, click here. Make sure to select USA Health Children's & Women's Hospital for local donations.
CUAid.coop & American Red Cross - for Disaster Relief Effort
The National Credit Union Foundation, during times of disaster, opens the CUAid website donation portal to receive disaster relief funds to assist credit union people affected by natural disasters and other major emergencies. New Horizons offers this helpful link for our members' and employees' use. If you are interested in contributing to relief efforts as they happen, please visit CUAid.
As disasters strike, the American Red Cross is also there to help.  New Horizons Credit Union offers members and non-members a safe place through our branches to make monetary contributions to the American Red Cross.  Funds raised are then presented to the local, Mobile, Alabama American Red Cross office for distribution and use for disaster victims.
New Horizons Credit Union - we are "People Helping People" as the credit union industry philosophy implies.
Awards
Dora Maxwell Award Winner for Social Responsibility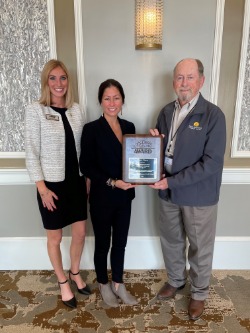 New Horizons Credit Union has been honored  several years with the Credit Union National Association (CUNA) Dora Maxwell Award for exhibiting social responsibility in the community through our Horizons Helping Hands program a
Ashley Zavros (middle) and Joe Mills (right)
accepted the award on behalf of NHCU.


America Saves Designation of Savings

Excellence Award

Your Credit Union has been honored for its efforts during National America Saves Week each February, and year-long, to encourage member saving. New Horizons Credit Union offers GreenPath Financial Wellness resources, New Wave Youth Savers Accounts with financial education web links, and a Credit Re-builder Auto Loan Program - all designed to encourage budgeting and saving. To learn more about these programs, simply click on the respective highlighted links above.
National Military Saves Designation of Savings Excellence Award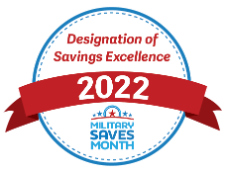 New Horizons Credit Union is a proud recipient of the National Military Saves Designation of Excellence Award for our efforts in promoting our Horizons Heroes Account, credit building programs, and financial education webinars during Military Saves Month each April, and year-long.
Sponsorship Requests
If your non-profit organization would like to request New Horizons Credit Union for a sponsorship, door prize, or perhaps promotional items,  please click on the link below for qualifying requirements and guidelines, and to submit other information for consideration. 
Note: Please submit requests and information at least 30-days prior to your deadline.  All requests must fit into one of three categories: Financial Education, Health or Human Services, or Arts & Culture. Unfortunately, New Horizons Credit Union cannot support non-local events, travel teams, conferences or travel related expenses, or project and events whose primary purpose is religious, legislative, political, or may be considered a conflict of interest with New Horizons Credit Union.
Click here for Sponsorship Requests
We give back to our communities in a variety of ways. The following are some of the organizations we have been able to and/or continue to support:
Alabama Education Association

Alzheimer's Association 

Animal Shelters (Mobile County, Clarke County, and Baldwin County)

Baker High School

Bank on South Alabama Program

Baldwin County Animal Shelter

Children's Miracle Network

City of Daphne

City of Fairhope

City of Mobile

City of Mobile Animal Shelter

Clarke County Animal Shelter

Clarke County FAWN program for 6th Graders

Daphne High School

Davidson High School

Eastern Shore Chamber of Commerce

Eastern Shore High School

Feeding the Gulf Coast

Fourth Grade Foresters

Gulf Coast Talent Show (Mobile & Baldwin County)

Jackson Alabama Chamber of Commerce

Jackson High School

Jackson's White Smith Library Summer Reading Program

Jensen's Heart of Gold Foundation

League of Southeastern Credit Unions

Making Strides against Breast Cancer 

Mobile Area Chamber of Commerce

Mobile Bay Bears Baseball 

Mobile County Public School System

Mobile Azalea Trail Golf Tournament

Mobile Navy League

Penelope House - Mobile, AL

Pensacola Area USAF 455FTS

Pensacola Blue Wahoo Baseball

Pensacola Metro Area Lions Sight Programs Inc.

Redeemer Lutheran School - Recycle Drive

Ronald McDonald House

Saraland High School

Semmes Chamber of Commerce & Semmes Azalea Festival

South Alabama Financial Crimes Task Force

South Baldwin Chamber

Southwest Mobile County Chamber of Commerce

Spanish Fort High School

St. Jude Children's Research Hospital

Theodore High School

United Way - VITA (Volunteer Income Tax Assistance) Program

University of South Alabama Athletics/Academics

USA Women's and Children's Hospital

Volunteers of America - Operation Backpack

Williamson High School

Woman of Worth Business Empowerment Inc. 

Woody's Song School "Chip in for Autism"


YMCA - Mobile, AL

And more!
---