VISA® Debit Cards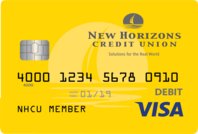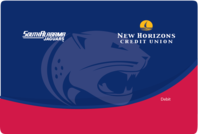 The New Horizons Credit Union VISA® Debit Card allows you to withdraw funds from your checking account without ever having to write a check, wherever VISA® is accepted. Our VISA® Debit Card gives you access to free cash withdrawals at any New Horizons ATM or any ATM on the Allpoint network. Simply look for those logos and you can get the cash you need. Visit the ATM locations page to locate the ATM nearest you. New Horizons Credit Union is a proud sponsor of the University of South Alabama Jags! Show your USA pride by using our new Fan Card. *Please note: by using the USA Jag debit card, you are not providing additional funds to the University of South Alabama - the New Horizons Credit Union USA sponsorship supports those efforts. 

Convenient
Accepted at millions of locations worldwide




Easier than cash or checks




Access money for free at New Horizons Credit Union ATMs and at ATMs within the Allpoint network




View transactions through Online Banking or via our mobile app



Secure
Protects you from unauthorized purchases with New Horizons Zero Liability Policy




Safer than carrying cash




We notify you of unusual activity and protect you from Debit Card Fraud



Choose your own PIN number
To apply, simply stop by any of our locations for an application or call the Credit Union and an application will be faxed or mailed to you. You can expect your VISA® Debit Card to arrive within eight to ten business days of your approval. Your PIN will be mailed to you in a separate mailing.


Debit Card Alerts
If you already have our debit card, you can sign up for Alert Notifications on card activity by clicking here .
ATM Transactions
Free ATM withdrawals are only for New Horizons VISA® Debit Cards on designated ATMs such as Allpoint ATMs. Our West Mobile & Daphne branch ATM locations offer both deposit and withdrawal capabilities.
*If you are using a New Horizons ATM card, you will be charged a fee for transactions made at non-New Horizons Credit Union ATMs and non-Allpoint ATMs.


Want to choose or change your PIN number?
You may choose your own PIN number by calling (866) 985-2273. You must be calling from a phone number we have on file.


Lost/Stolen Card or Fraudulent Charges
To report fraudulent charges, or a lost or stolen card during business hours, contact our Member Service Center at (251) 316-3240.
After hours, please call: (800) 449-7728.
We have a system that monitors your account for possible fraudulent activity. You may receive a call if fraud is suspected, but you will never be asked for your entire card number or social security number.


Prepaid, Reloadable - Debit Cards - available!
Now there's a way to control your spending, while still enjoying the convenience of a debit card. Simply carry our prepaid debit card. Our prepaid debit card helps you manage your money because it's pre-funded. That means you can only spend the amount on the card. We even give you an online management tool so you can track your spending or load additional funds onto the card. You can use the card wherever debit cards are accepted.

Since you can't spend more than what's loaded on the card, you'll never be overdrawn. That means no overdraft fees. No embarrassing mistakes. Our prepaid debit card is also very safe. That's because it's not linked to any account, so if it's lost or stolen, you won't have any risk. And it's much safer than carrying cash. There is a disclosure agreement and nominal fees associated with these type cards. Visit any of our locations for current detailed information and to sign up to receive your prepaid debit card.
---